Feel good about what you're sipping and also what you're not wasting with Teatulia's easy-to-use, quick-to-brew and 100% compostable round tea bags. Created for convenience and packaged in sustainable style, Teatulia's 30-count eco-canister of jasmine green tea features: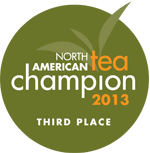 About Teatulia's Organic Jasmine Green Round Tea Bags
Green tea hails from the two leaves and a bud of the Camellia sinensis plant that have undergone minimal oxidation during processing. Green tea leaves are typically steamed or pan-fried to halt the oxidation process, so the leaves remain gorgeously green and brew into a light and refreshing tea. Teatulia's jasmine green tea is a blend of refreshing green tea, direct from Teatulia's USDA-certified organic garden in Bangladesh and other like-minded single gardens, and the most exquisite jasmine oil that provides the perfect hint of refreshing, floral aroma and taste.
Aroma: Sweet and floral, like a fresh, dewy meadow of summer grass and delicate flowers.
Flavor: Mildly sweet jasmine flavor with full floral notes. A full-bodied brew with slight astringency and a delightfully sweet finish.
Caffeine content: Contains about two-thirds the amount of caffeine than coffee.
Brewing instructions: Tumble water just off the boil over the round tea bag and steep for 3 minutes. Enjoy and repeat.