Chaidoodles
Warm, buttery, spicy snickerdoodles are a natural pairing with a delicious cup of masala chai, so why not bring some tea action straight to the cookie? Finely ground spiced tea ups the oomph of an already tasty treat.
Pairings
Masala Chai, by Rishi Tea
Kashmiri Chai, by Golden Moon Tea
Bengal Breakfast, by Teatulia
Makes 1 quart jar; 5 dozen cookies
Ingredients:
2 3/4 cups all-purpose flour
1 cup brown sugar
2 Tbl loose-leaf Teatulia

®

masala chai blend
1/4 tsp salt
1 tsp baking soda
½ tsp baking powder
2 tsp cream of tartar
1 Tbl cinnamon
1 tsp ground ginger
¼ tsp grated nutmeg
¼ tsp ground black pepper
1 cup granulated sugar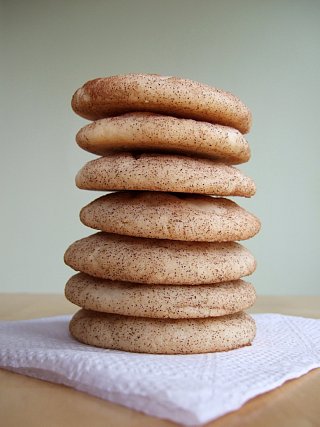 Preparation:
Grind the masala chai blend to a fine spice-like consistency using a spice grinder, coffee grinder, or mortar and pestle.
In a 1-quart glass mason jar, layer the ingredients: Put flour in the bottom of the jar. Top with brown sugar. Sprinkle with ground masala chai, salt, baking soda, baking powder, cream of tartar, cinnamon, ginger, nutmeg, and black pepper.
Put a folded dishtowel on the counter. Gently tap the jar on top of the towel to pack the ingredients down.
Top with granulated sugar. Tap gently to fit, if necessary.
Seal the jar with its lid and add a label with cooking instructions.
Instructions
Soften two sticks of butter
Put the butter in a bowl and pour in the sugar from the top of the jar of mix
Cream butter and sugar together well, until slightly lighter in color and fluffy
Beat in 2 eggs, mixing well
Add the rest of the mix from the jar and blend well
Scoop the dough into 1-inch balls; if desired, roll each ball in cinnamon sugar
Place 2 inches apart on ungreased baking sheets
Bake at 350 degrees for 15-18 minutes or until golden brown.