Rainforest Alliance Cert PR
Rainforest Alliance Cert PR
Denver, CO (PRWEB) May 01, 2013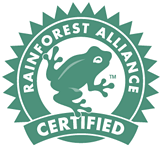 Continuing their commitment to sustainability, Teatulia Organic Teas announced today that their own tea garden in Bangladesh has met the rigorous standards for Rainforest Alliance certification. This announcement makes Teatulia one of the first in its category to totally commit to certification as well as the first tea garden in Bangladesh to receive this honor.
Since co-founding the company in 2005, Dr. Kazi Anis Ahmed and Linda Appel Lipsius, have been adamant about protecting the environment and promoting the well-being of the people in their community. "Being able to add the Rainforest Alliance Certified™ seal to our packaging is a great reminder to consumers of Teatulia's commitment to environmental stewardship and the well-being of farm workers" said Lipsius.
The Rainforest Alliance is an international nonprofit organization founded in 1987 that works to conserve biodiversity, develop and promote standards for sustainability and foster the rights and welfare of workers, their families and communities in more than 70 countries. Farms are audited against the Sustainable Agricultural Network's standards, and if they meet the criteria for responsible management they are awarded the Rainforest Alliance Certified™ seal of approval.
Farms that achieve Rainforest Alliance certification support a healthy environment, ensuring ecosystem conservation, wildlife protection, water and soil conservation, and agrochemical reduction. These farms also guarantee worker rights and safety, decent housing, legal wages and contracts for workers, and access to healthcare and education.
Teatulia's mission of sustainability highlights the significant benefits companies can bring to both farming communities and the environment. Producing over 700,000 pounds of tea and herbs per year, the Teatulia Cooperative requires that all farm workers are trained in good agricultural practices in accordance with the rigorous standards for Rainforest Alliance certification.
"We applaud Teatulia for their commitment to sustainability, sourcing the tea used in their new collection from Rainforest Alliance Certified farms," said Tensie Whelan, president of the Rainforest Alliance. "They have made a promise to support a healthier planet through their efforts."
For more information about Teatulia, as well as up-to-date news, trends, recipes and more, please visit their website at https://www.teatulia.com and "LIKE" the Teatulia Facebook page at http://www.facebook.com/teatulia.
About Teatulia:
Teatulia Organic Teas are sourced directly from their own garden in Northern Bangladesh and other like-minded gardens, with no long-term warehouse storage and no waiting around to be put into the right blend by a third party. This results in exquisite, clean and smooth tasting teas that support education, business and health initiatives and demonstrate a thorough commitment to sustainability. Started in 2000 to give back to the local community, the Teatulia Gardens were established as an enterprise that would give the most people a living wage while protecting and strengthening the environment. The Teatulia Cooperative has established revolutionary education, health and cattle-lending programs for the people working in the garden and surrounding areas. All sales of Teatulia Organic Teas contribute to this mission, helping to better the lives of men, women and children in our community while rebuilding the local ecosystem. For more information about Teatulia Organic Teas, please visit https://www.teatulia.com.
About the Rainforest Alliance:
The Rainforest Alliance works to conserve biodiversity and ensure sustainable livelihoods by transforming land-use practices, business practices and consumer behavior. Rainforest Alliance Certified™ farms support a healthy environment, promote the well-being of workers and their communities and ensure efficient farm methods. Farm workers benefit from safe working conditions, dignified housing and medical care, and access to schools for their children. Certification ensures the protection of ecosystems, including wildlife habitat, water and soil. To learn more about the Rainforest Alliance, visit http://www.rainforest-alliance.org.
CONTACT
Chris Olsen, Marketing Director, 303.433.2980 x301, chris(at)teatulia(dot)com