Matcha & Goat Cheese Crostini
Matcha & Goat Cheese Crostini
(submitted by Tea Magazine)
Recipes & Text by Alexis Siemons
Photographs by Sharon McMullen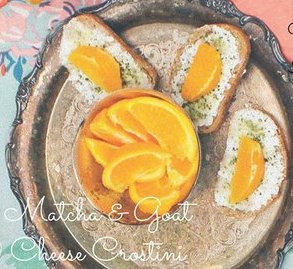 While a thin baguette will do, opt for a small whole-wheat bread loaf for larger, more substantial slices to provide ample room for the juicy orange segments.
Makes 8 large crostini (if using a thin, baguette, be sure to add additional slices)
Ingredients:
Small bread loaf, 8 half-inch slices
olive oil, for drizzling
5 oz goat cheese
½ teaspoon matcha green tea powder
honey, for drizzling
1 orange, peeled, pith removed and segmented
Preparation:
To make the crostini, heat your oven to 350 degrees. Slice loaf into 8 half-inch pieces, place the slices on a baking sheet, and drizzle both sides with olive oil. Bake for approximately 15 minutes or until slightly crispy (note: You can make the crostini ahead and store at room temperature in an airtight container for 2 days).
Let crostini cool slightly, but top with goat cheese while crostini is still warm for an easy spread. Gingerly sprinkle matcha powder on the goat cheese to create an even dusting. Drizzle with honey and top each slice with one orange segment.
Tip: To preserve the bright green matcha color, sprinkle right before serving.