TEA TERMINOLOGY: DRY LEAVES




The first photo is of loose, dried black tea leaves and the second is of white tea leaves.
GENERAL:
CAMELLIA SINENSIS:
The species of plant whose leaves are used to produce tea. Black, Green, White, Oolong, and Pu-erh teas all come from this plant. There aretwo varietals: C. Sinensis sinensis and C. Sinensis assamica.
CTC:
Cut-Tear-Curl method of tea processing resulting in broken leaves.
FAIR TRADE:
Program run by Trans Fair International intended to provide growers with a fair price for their teas.
GARDEN/ESTATE:
Farm or plantation that grows tea of varying scale and scope.
GARDEN-DIRECT:
Teas that come directly from the garden of origin without being handled by brokers or distributors.
GRADES:
Terms used to describe black teas from the Indian subcontinent, Indonesia and Africa. Based on the size of the leaf and the presence of tips. Tippy, Golden, Flowery, Broken, Orange Pekoe are some of the grading terms used and are usually abbreviated (e.g. OP, BOP, FOP, GFOP, TGFOP, etc.)
FLUSH:
A complete group or complement of fully developed tea leaves ready for harvest plucking. The unopened bud and next two leaves are harvested.
ORGANIC:
Teas grown with a strict adherence to agricultural guidelines for natural cultivation set by the USDA or other national certifying bodies.
ORGANOLEPTIC:
The ability of tea to make an impression on the senses of taste, smell, sight and viscosity within the mouth.
ORIGIN:
Typical tea origins include India, Ceylon, China and Japan. More recent origins include Bangladesh, Vietnam and parts of Africa.
ORTHODOX:
Whole leaf tea.
PLUCK:
To pick or harvest tea.
SINGLE-GARDEN:
From one tea garden or estate rather than multiple gardens. Most commercially available teas are a blend of teas from multiple gardens.
TISANES:
Herbal infusions not derived from the Camellia sinensis plant.
SPECIFIC TERMS USED TO DESCRIBE DRY LEAVES:
BLACKISH:
This is satisfactory appearance for CTC manufacture teas and denotes careful sorting.
BLOOM:
A "sheen" which has not been removed due to over-handling or over-sorting. It is a sign of good manufacture and sorting (where the reduction of leaf has taken place before firing).
BOLD:
Particles of leaf, which are too large for the particular grade.
BROKEN:
Tea with many small or broken pieces of leaves.
BROWN:
A brown appearance, with CTC manufacture, normally reflects too harsh treatment of the leaf.
CHESTY:
A taint caused by inferior or unseasoned packing materials.
CHOPPY:
Orthodox manufacture leaf that needs to be cut by a "breaker" during sorting.
CHUNKY:
A very large broken leaf that results from orthodox manufacture.
CLEAN:
Free from fiber, dust, and any extraneous matter.
CREPEY:
A crimped appearance from orthodox manufacture common with larger grades of broken leaf tea such as BOP.
CURLY:
The leaf appearance of whole leaf grade Orthodox teas such as OP. The opposite of wiry.
EVEN:
Size is true to grade and of consistent size.
FANNINGS/DUST:
The tiny bits and pieces, usually leftovers from processing. Commonly found in conventional paper tea bags.
FIBER:
Shreds of stalk found in dry leaves-indicating bad particles.
FLAKEY:
Flat, open, and often light in texture.
GOLDEN TIPS:
The desirable golden tip of the smallest, most tender leaves.
GREY:
Caused by too much abrasion during sorting.
GRAINY:
Describes well-made CTC primary grades, particularly Pekoe Dust, and Dust 1 grades.
IRREGULAR:
Uneven pieces of leaf in whole-leaf grades resulting from inadequate or poor sorting.
LEAFY:
Orthodox manufacture leaf tending to be on the large or long side.
LIGHT:
A tea light in weight and of poor density. Sometimes referred to as flaky.
MAKE: A well made tea (or not) and must be true to the particular grade.
MUSHY/MUSTY:
A tea that has been packed or stored with a high moisture content.
NEAT:
A grade having good "make" and size.
NOSE:
Smell of the dry leaf.
OPEN:
Opposed to twisted-unrolled.
POWDERY:
A fine light dust.
RAGGED:
An uneven or poorly manufactured and graded tea.
STALK & FIBER:
Parts of the tea plant that should be minimal in primary or top grades, but generally acceptable in the lower grades.
TIP:
A sign of fine plucking and apparent in the top grades of Orthodox manufacture.
UNEVEN & MIXED:
"Inconsistent" pieces of leaf indicating poor sorting and untrue to the particular grade of tea.
WELL-TWISTED:
Applies to Orthodox manufacture. Often referred to as "well made" or "rolled" and used to describe whole leaf grades.
WIRY:
The appearance of a well-twisted, thin leaf Orthodox tea.
---
TEA TERMINOLOGY: THE LIQUOR (THE LIQUID PRODUCED BY THE TEA LEAVES) AND INFUSED TEA LEAVES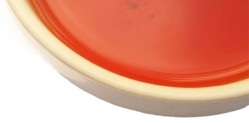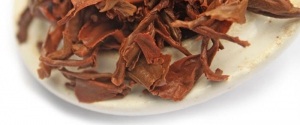 Photos of tea liquor after steeping and loose infused tea leaves, respectively
GENERAL:
AGONY OF THE LEAVES:
Unfolding of the tea leaves in hot water.
AROMA:
Smell or "nose" denoting "inherent character."
AUTUMNAL:
A term used to describe the earthy, fuller-flavors characteristic of fall tea crops.
BAKEY:
A over-fired tea in which too much moisture has been driven off.
BODY:
A tactile sensation related to tea viscosity and strength of liquor combined with weight on the tongue. Body can be wispy, light, medium or full. Also called "mouth feel."
CHARACTER:
Intrinsic traits of the tea liquor, broadly identifying a tea by country region or estate.
COLOR:
The color of brewed liquor is determined by country, district, varietal, harvest conditions, processing methods and preparation. For example, black tea tends to be reddish, oolong brown to greenish-yellow, green tea is pale green and white tea sometimes has a nice pinkish hue.
FINISH:
A measure of the taste or flavors that linger in the mouth after the tea is tasted.
FLAVOR:
A most desirable extension of "character."
LIQUOR:
The brewed tea liquid that remains when leaves are removed after steeping.
NOSE:
The aroma and essence emitted by brewed tea liquor and fresh or dried leaves.
PEAK:
The high point of a cupping experience – when the liquor enters the mouth and its body, flavor and astringency make themselves fully felt in combination.
QUALITY:
Refers to "cup quality" and denotes a combination of the most desirable liquoring properties.
STRENGTH:
The measure of the substance in a cup.
TANNIN:
A vital chemical component of tea that is responsible for its astringent, palate-cleansing character.
DESIRABLE CHARACTERISTICS:
BRIGHT:
Denotes a lively fresh tea with good keeping quality.
BRISK:
A lively taste in the liquor, without being too high in bitter tannins, as opposed to flat or soft.
CLEAN:
Fresh on the palate and free of any off-taste.
COMPLEX:
A term that describes integration of aromatic and flavor components in finer-quality teas, referring to a tea's display of multi-dimensional layers.
COPPERY:
Bright leaf, which indicates a well-manufactured tea.
EARTHY:
Describes teas with aromas or flavors of soil or earth.
FULL-BODIED:
A good combination of strength and color.
GRASSY:
A somewhat raw, hay-like flavor often associated with greens and some oolongs.
HARD:
A very pungent liquor.
HIGH-FIRED:
Over-fired but not bakey or burnt.
MALTY:
A subtle underlying flavor often characteristic of Assams.
MATURE:
Not bitter or flat.
MELLOW:
Smooth, easy & pleasant. The opposite of harsh or greenish.
MUSCATEL:
A term traditionally used in reference to a sweet varietal of white wine, but in the tea world used to describe the classic characteristic flavors of brewed Darjeeling liquor.
PUNGENT:
Astringent with a good combination of briskness, brightness, and strength. Often reserved for the best quality Assam and Ceylon teas.
SELF-DRINKING:
Any tea with sufficient aroma, flavor, body and color to stand alone, with no need of blending (when dry) or condiments (after brewing) to improve drinkability.
SMOOTH:
A liquor with a rounded taste and body that is pleasant to the palate.
SOFT:
The opposite of briskness and lacking any "live" characteristics.
TARRY:
A smoky aroma.
UNDESIRABLE CHARACTERISTICS:
BAKEY:
An over-fired tea in which too much moisture has been driven off.
BRASSY:
Liquor with a strong, bitter taste.
BURNT:
Off color and flavor caused by extreme over-firing.
COARSE:
The taste of the liquor has a rough quality (bitterness or too much acidity) due to improper processing, such as the inclusion of too much fiber.
COMMON:
A very plain tea, light and thin liquor with no distinct flavor.
CREAM/CLOUDING:
A precipitate obtained after cooling.
DARK:
A dark or dull color, which indicates a poor quality leaf.
DRY:
Indicates slight over-firing.
DULL:
Tea with a muddy liquor that lacks brightness or briskness. Also describes a leaf without sheen or brilliance.
FLAT:
Off or stale taste.
FRUITY:
Can be due to over-oxidization or bacterial infestation before firing, delivering an overly ripe taste. Also positively associated with good oolongs.
GREEN:
An immature "raw" character. Often due to under-fermentation and/or under-withering.
HARD:
A very pungent liquor.
HARSH:
A rough taste generally related to under-withered leaves.
HEAVY:
A thick, strong and deep-colored liquor with limited briskness. Similar attributes to full-bodied tea, but taken to excess.
LIGHT:
Lacking strength and any depth of color. Also known as wispy.
METALLIC:
A sharp coppery flavor.
MIXED/DISTORTED/UNEVEN:
Tea leaves of varying color.
MUDDY:
A dull opaque liquor.
OFF/GONE OFF:
A flat, or otherwise bad tea often due to a high moisture content.
PLAIN:
A liquor which is "clean" but lacking in the desirable characteristics.
POINT:
A bright, acidy and penetrating characteristic.
RASPING:
A very course and harsh liquor.
RAW:
A bitter, tart, tangy, rough, super-grassy or overall unpleasant liquor.
STEWED:
A soft liquor with an undesirable taste caused by faulty firing at low temperatures and often insufficient air flow.
TAINTS:
Characteristics (or tastes) which are "foreign" to tea, caused by improper storage and shipping. Taints can include petrol, spices, coffee, etc.
THIN:
An insipid light liquor which lacks any desirable characteristics.
WEEDY:
A grass or hay taste related to under-withering. Sometimes referred to as woody.
WISPY:
Liquor that is lacking in both strength and depth of color.