This combination of an aged Haitian rum and a simple syrup infused with our tart hibiscus and sweet berry iced tea will transport you straight to Caribbean. It's a bit like a rum punch but a little more sophisticated and subtle. The recipe makes 2 cups of simple syrup, so you can make lots of Haitian Libation cocktails from one batch. Or you can use the leftover syrup to flavor other cocktails, sweeten a plain black or green iced tea, or give your plain yogurt a tea-infused twist. We are grateful to The Kitchen Boulder (a community bistro in historic downtown Boulder, Colorado) for this island-inspired sip.
Makes 1 cocktail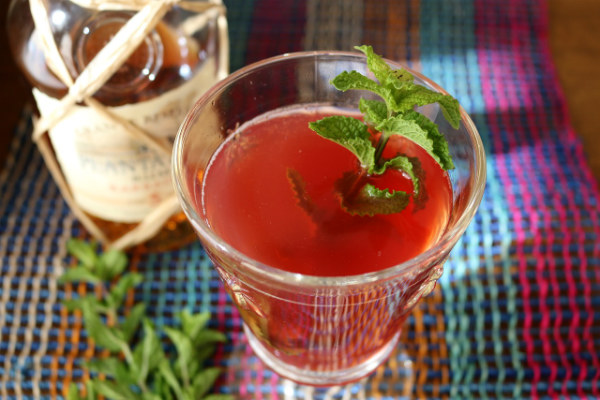 Ingredients:
For Hibiscus Berry simple syrup:
1 1/2 cups water
1 1/2 cups sugar
1 (1 oz.) portion pack tea bag Teatulia® Hibiscus Berry Iced Tea
For cocktail:
1 tsp. Fernet Leopold Highland Amaro (or other Fernet liqueur)
2 oz. Barbancourt 8yr Haitian Rum (or other aged rum)
3/4 oz. Hibiscus Berry simple syrup
1/4 oz. lemon juice
1 dash orange bitters
Soda water
Fresh mint sprig
Preparation:
For Hibiscus Berry simple syrup: Bring water and sugar to a boil in a small saucepan, stirring to dissolve sugar. Once boiling, add portion pack tea bag and reduce to a low simmer. Simmer for 10 minutes. Remove from heat, discard tea bag and let syrup cool to room temperature before using. Store in a sealed container at room temperature. (Makes about 2 cups.)
For cocktail: Add Fernet to a tall collins glass and swirl to wash the sides of the glass with the liqueur. Add remaining ingredients to a cocktail shaker with a handful of ice cubes. Shake for about 30 seconds then strain into the glass on top of the Fernet. Top with soda water and add ice if desired. Garnish with a fresh sprig of mint.