(submitted by Tea Magazine)
By Chef Heidi Fink
www.chefheidifink.com
Makes about 1 quart of sorbet
This exotically refreshing and intensely lemony sorbet is the most elegant form of iced tea in the world. This mixture can also be used to make divine popsicles or Granita.
Ingredients:
1 1/3 cup sugar
3 cups water
Zest of 2 organic lemons
3 tbs loose Teatulia

®

jasmine green tea leaves
1 cup freshly squeezed lemon juice (from 4 to 5 lemons)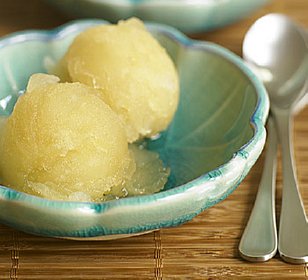 Instructions:
Combine sugar, water and lemon zest in a medium sauce pan. Heat gently while stirring to dissolve sugar. Bring to a boil and boil for 3 minutes. Remove from heat and stir in jasmine tea leaves. Let sit for 4 minutes, and then strain into a large bowl. Stir in the lemon juice. Place in the fridge to cool completely before freezing.
Once cool, this ambrosial liquid can be made into one of three things:
Sorbet: pour into an ice cream maker and freeze according to the manufacturer's directions.
Gourmet Popsicles: pour into a popsicle mold and freeze.
Granita: pour into one or more shallow plastic containers and freeze for four hours, stirring with a fork every 30 minutes to make sure the ice crystals have a uniform texture. (Granita is an early Sicilian form of "ice cream" still enjoyed in fancy restaurants for its simplicity, elegance and crunchy texture.)