No joke—this easy ice cream only has three ingredients! Matcha green tea powder mixed with cream and sweetened condensed milk yields a creamy, dreamy ice cream that has almost a soft-serve texture to it. The fresh, grassy notes of the matcha balance out the sweetness of the condensed milk. It's a rich ice cream, so a little goes a long way on a cone for a summertime treat or in a bowl for a classy dinner party dessert.
3-Ingredient Matcha Green Tea Ice Cream
Recipe created for Teatulia® by Tea Foodie.
Makes about 1 quart
Ingredients:
2 tsp. matcha green tea powder
2 cups heavy cream
1 (14 oz.) can sweetened condensed milk
Special Equipment: Ice cream maker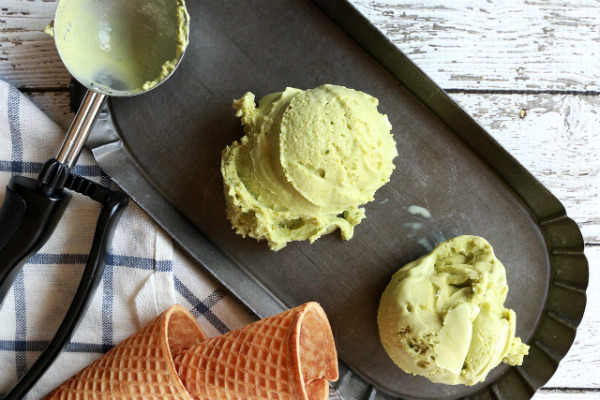 Preparation:
In a medium bowl, whisk matcha powder with a splash of the cream to form a smooth paste; this will help the matcha incorporate completely into the ice cream base with no clumping. Whisk in remaining cream. Add sweetened condensed milk and whisk until smooth. Cover and refrigerate for at least a couple of hours until mixture is well chilled. Follow ice cream maker manufacturer directions to churn the mixture until thick and creamy and almost frozen. Transfer to a container, seal, and freeze for a couple of hours before serving.