Submitted by one of our creative Facebook fans, Amanda Denike Mack.
Serves 4 to 6
Ever thought of incorporating tea snacks into your tailgating routine? I'm not talking clotted cream and tea sandwiches here. I'm talking true pre-game grub. If ever you were going to introduce tea to a tailgate party, these smoked chicken wings would be the way to do it.
Smoking with tea is an age-old way of preparing and even preserving food. When dry tea leaves mix with a little sugar and sit over high heat they end up burning, and that's what we want. The resulting smoke will infuse whatever you're cooking with a charred flavor that has the essence of the tea leaf as a background note.
You can use any type of tea leaves fo smoking, but we like using a darker, full-bodied tea like our Teatulia Black Tea. Here, the sweet honey notes in our black tea complement the honey, ginger, and soy-based marinade for the wings.
Go ahead—impress your friends for the next big game…with tea.
Black Tea-Smoked Chicken Wings
Ingredients: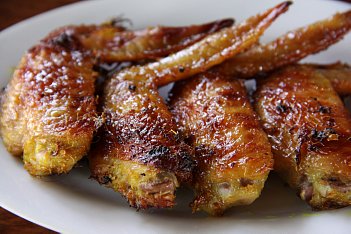 16 whole chicken wings
3 cloves garlic, chopped
1 tablespoon grated fresh ginger root
1 tablespoon honey
3/4 cup low-sodium soy sauce
1/2 cup cream sherry
3/4 cup brown sugar
1 cup loose leaf Teatulia

®

Black Tea
Sesame seeds as garnish
Notes: It's important to have a good kitchen exhaust fan for this recipe as it does "smoke".
You can use 3 to 4 lbs. boneless chicken thighs in place of wings.
Preparation:
1. Cut wing tip off drumstick end of wing and slice through the wings. Rinse wing pieces and pat them dry.
2. Place garlic, ginger, honey, soy sauce and sherry in a blender and process for 20 seconds to create a marinade. Pour marinade into a 9"x13" baking pan. Add wings and toss to coat with marinade. Cover pan and refrigerate at least two hours, turning wings over in marinade about halfway through.
3. Line a heavy cast iron skillet or stainless steel roasting pan with heavy-duty aluminum and sprinkle the sugar and tea on the foil. Place a cake or wire rack in the skillet or pan and arrange the marinated wings on top of the rack. Cover tightly with a lid or more foil.
4. Set the pan over high heat for 30 minutes. Remove the pan from the heat and resist the urge to lift the lid or foil cover off the pan. Keep the wings covered for 20 more minutes so they have time to infuse with the tea smoke created by the high heat. For more browned, crisp wings, coat with a little sesame oil, set on a foil lined baking sheet, and roast in a 450- degree oven for about 5 minutes.
5. Serve with sprinkled sesame seeds. Great with peanut or mustard sauce.