Posted by Teatulia on 8-21-2020
Great tea starts at the source. We sat down with one of our founders, Kazi Inam Ahmed, to hear his take on how Teatulia came to be. Spoiler alert: Inam reveals how the origin of our sustainable practices was driven by... a cow.
Molly
Hey everyone! We are back with another Founder's Friday. My name is Molly Waller and I am the Senior Marketing Manager at Teatulia, joined by my partner in crime Elsa Meyners, our Associate Marketing Manager. Today we're sitting down with another one of our founders, Kazi Inam Ahmed, or better known to us as Inam. Welcome, Inam. We really appreciate you taking this evening to chat with us.
Inam
Thank you. I'm looking forward to the chat today.
Elsa
Well Inam, we'd love to start things off with you having us tell a little bit about yourself and an introduction.
Inam
Okay. So, I'm one of the Kazi's of the Kazi and Kazi Tea. In my family, everyone's first name is Kazi, which always complicates things, so I go by Inam. So, the garden in Bangladesh from where Teatulia comes from, as we say the tea is born in Bangladesh, the garden is called Kazi and Kazi. The garden started around 2000, and that's when I was in college. I was actually in America, in Wesleyan, in Connecticut and I was studying there. And I got a bit involved with tea at that point and then I moved back in 2004, and I worked at the garden for the first few years quite closely. Then after that, there were other working projects and business things that I did. It's been a fantastic journey for the last, I would say, 16+ years for me, with the business. It's a family business, living in Bangladesh and visiting our tea garden in Bangladesh up north. It's in the foothills of the Himalayas. And having this wonderful brand of Teatulia that we have created in America based out of Denver.
Molly
That's awesome. You said you were in college when your father started this? How did he decide that tea was the right thing at the time and that was the avenue he wanted to go down?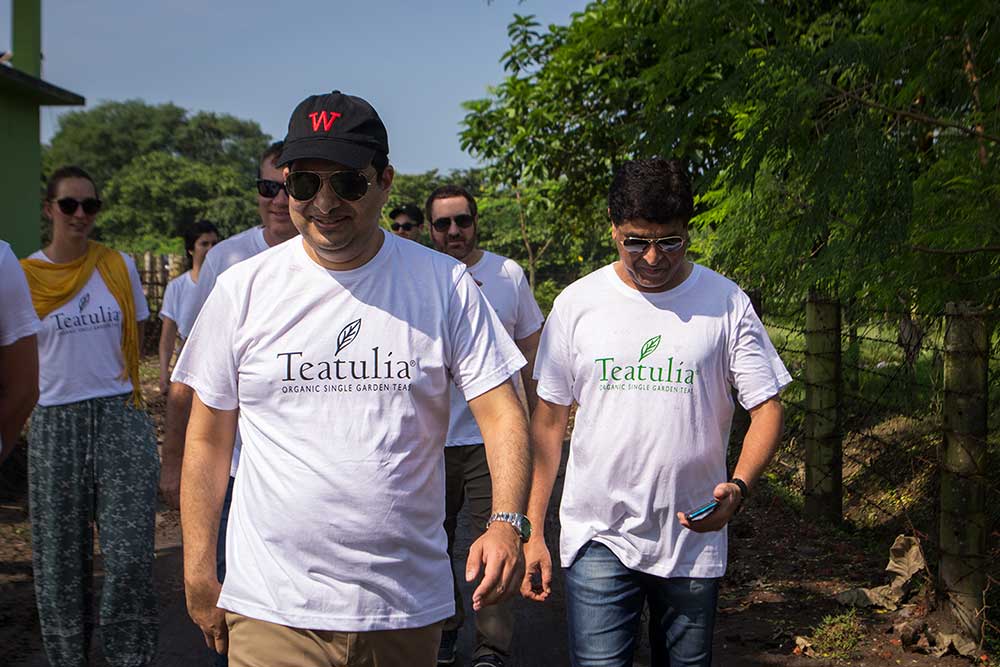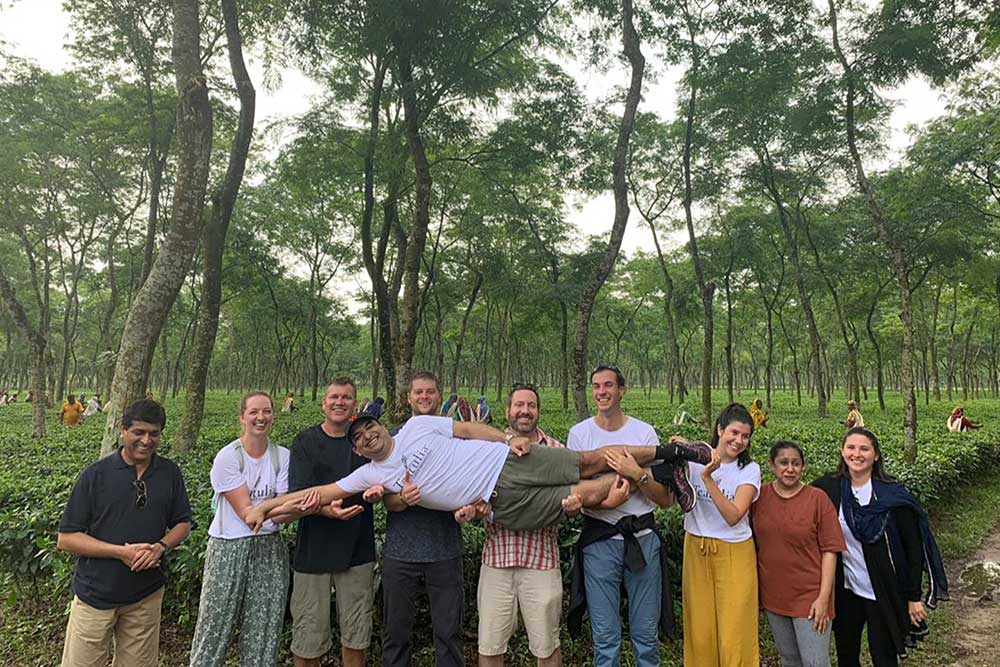 Inam
Well, actually the region in Bangladesh where the tea is from, that region itself is called Tetulia, which is why the brand we add an 'a' after the 'Te' and it became TEA-tulia. And that's actually a very good region for tea. Like I said, it's in the foothills of the Himalayas. Darjeeling is like 30-40 miles north of our garden. Basically, that region is called the Dooars (Duars) Valley in India. And you grow really good tea, beautiful tea. Unfortunately, because of the border in Bangladesh, for some reason on the Bangladesh side, tea was never really grown. It was kind of really fallow land that was not cultivated, that was not being used. A lot of it was just very poorly kept, you could say. And my father actually had other business over there, and he used to go there for years…... because of other businesses that he had which were more engineering related. He bought some land and was looking at that. The opportunity came where he saw that there was tea on the other side of the border, literally. So, if you go to our garden now and you stand...and literally you can have one foot on the side of India and one on the other side of Bangladesh. The tea garden in India and Bangladesh are separated by like 30 or 40 feet. So, you have teas on both sides. It's the same land. It's good tea. And he thought since such good tea grows here, we should also do it. Because it was a new garden, most gardens in Bangladesh or even in that region in India are old gardens from our colonial past, from the British time. And usually, they have their own history, in terms of how the people who work, how they are a part of the garden itself, there's always been a lot of questions about how the people work and how they are treated, what their life and everything is. But this was going to be a completely new area where we don't have people that will be available like that. So, we wanted to build a community that will benefit over there and at the same time also make good quality tea. So, the best way to do it we felt was, and my father also felt, was to respect the nature and the environment, and do as least as possible that we could do in terms of intervention and work with the community. So, we have a lot of interesting programs, with the cattle lending program, education, and other stuff. That's how the tea started kind of, and it's been a fun journey of how it's just evolved from there.
Elsa
Yeah, I was reading about the Dairy Cooperative as how it originally started before it was a tea cooperative, that's correct?
Inam
Yeah, so basically when we were doing the tea, there are two ways you can do organic. The important thing is to get certified to get an organic tea garden or do anything organic. And to make sure that you're just not using the kind of fertilizers or pesticides that are harmful, either for the produce itself or the environment or the ground. But for us it became more of a holistic approach, we wanted to make sure that it was really sustainable, and, in that sense, we realized that for the garden, for the nourishment, for the soil we needed cow dung. So usually with most co-ops, which is very different over here...Bangladesh is also known for the micro-lending program with the Grameen bank and all of that. There's always this idea of how you can build with the community and how you work with them. So, we actually went with a different model that's not actually a microfinance model. We would actually just use our community nearby and not necessarily all of them work with the tea garden, and rather that way the community really benefits, where we will give them the cows and they will give back to us by actually sharing the cow dung. The cow dung was the main product for which we did this dairy cooperative. At the same time, they were also giving us a portion of the milk and that actually has been, like I said, it's a journey and it's not that we had a full plan exactly of how it's going to go. Things have always evolved, and 16 years down the line, you ask so what was your day-to-day. This morning I was actually having a meeting with the people of the co-op and we were talking about what do we do because all the villagers and all are getting much better at how they manage the cows, so we are having more milk. so even the portion of the milk that they give is going up, and there's only so much that the community over there can consume. So now we are trying to set up this little mozzarella factory set up. We are making some mozzarella which actually comes to Dhaka. So like we are making this mozzarella cheese that people can have for the pizzas or pasta or whatever, because there's a lot of people that want that. There's also some South Indian style cooking cheese, like the paneer, as it's called, which has been really flying off the shelves: the retailers have been asking for it. So we just started that a few months ago and we are talking about that, and now we are trying to figure out how to make better quality cheese. One thing has always led to another thing like as we have always seen with our garden.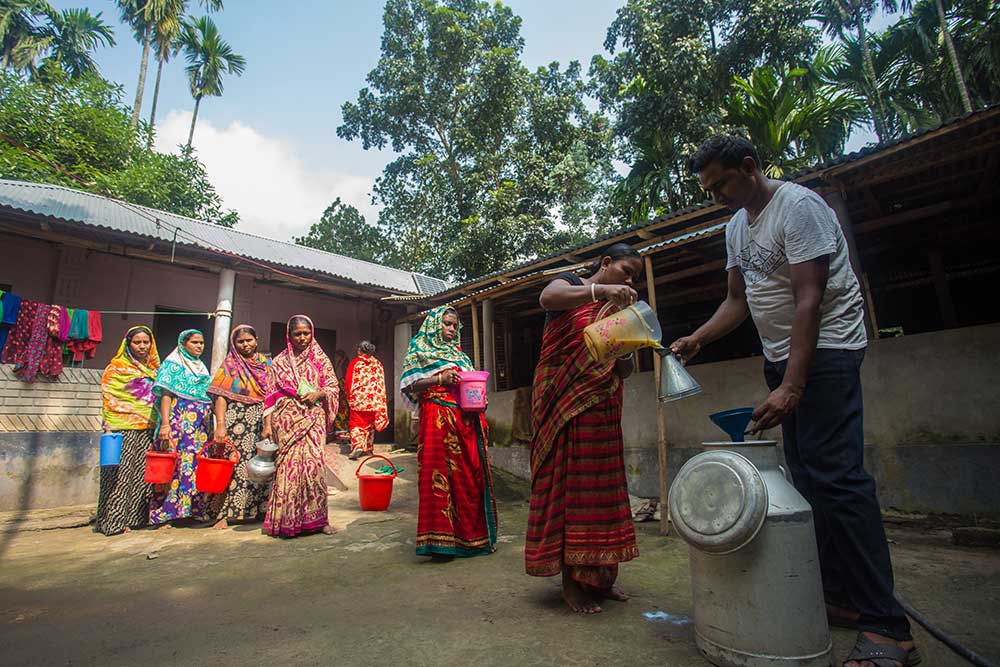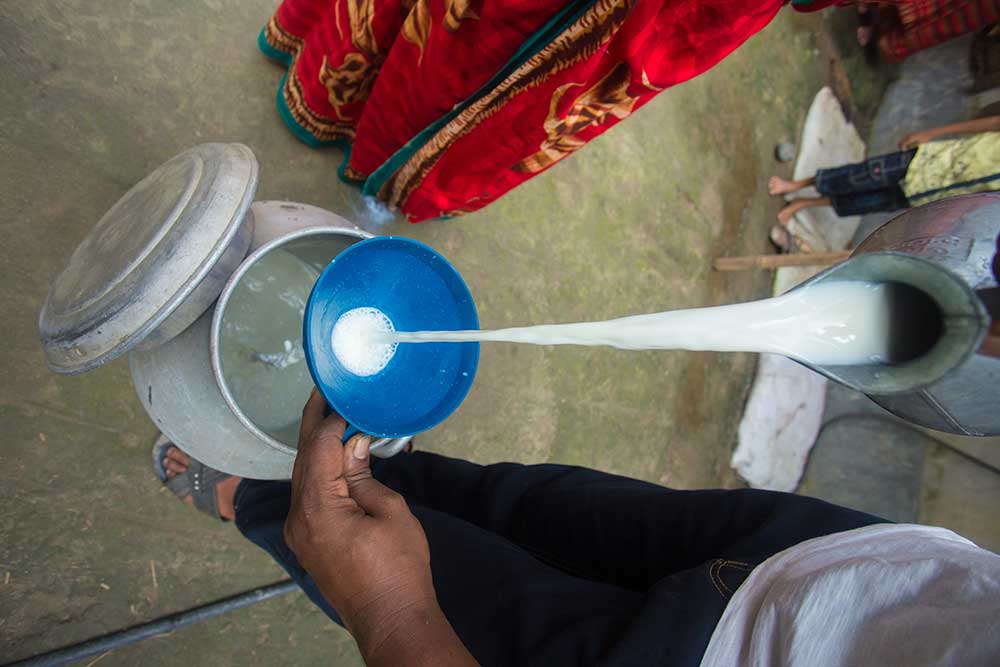 Elsa
Yeah, I am just so impressed with the integrative nature and your ability to adapt. I was wondering if you could speak a bit to the actual growing process of the tea and talk about the Fukuoka farming method?
Inam
I think a part of that was something that we would always have this discussion with my father and also like a few people we had who were friends who were helping us out. And kind of like understanding of how the environment and the land work, and I think one of the things my father would always say is, "Hey, you know what? If we are having a certain part of the tea that we are getting, if there are pests or others who are going to have other animals that we are getting….in that sense, it's going to have 10-15% and it's fine." Because I think a lot of tea production becomes so much about what is the total yield we are getting from the acreage and garden and it becomes how do you maximize, and it becomes about what kind of pesticides are you using. But the truth is sometimes, one of the things that you face, you will get this very little bug called the red spider. Even if you get the red spider at times, it actually improves the quality of the leaves. So, you can actually produce much better tea even if it comes in, so it doesn't even harm you in a bad way. Of course, you can get a real infection or spread of it that will not be good, but it's all about how you manage it and over there, we actually with a lot of our trees, like neem tree and other trees and Vasaka tree which actually helps, where we were able to use the leaves and to grind them and mix it with water and other things and spray it to use as a natural pesticide. I think it's finding that right balance and not feeling that you have to get the maximum yield all the time. So, in that sense, I guess the Fukuoka method, we kind of felt like let's not try to change how the environment works, in terms of focusing too much on artificial irrigation or pesticide usage or fertilizer usage. The truth is even using a lot of organic fertilizer that we could have gotten from outside. Instead, how do we make this whole ecosystem and cycle that works, and it works within the garden and within that area, and it's not something that we're having to bring from way outside, so really living off the land and having this we also do tea over there.
We do the dairy, and we also have a lot of vegetable farms over there so all the people that work in the garden can have the nearby quality organic vegetables that's just from right there. That was always kind of the thinking that it just becomes this holistic, nourishing environment from which it's truly sustainable.
Molly
I love our impact and how we benefit the community. I was wondering if you would actually elaborate a little bit about the adult education that a lot of the pluckers in the garden get.
Inam
Even that education, it's something, my father would say, it's so important because in a country like Bangladesh, which is very poor, where you really are seeing much improvement in education in general to the country. Unfortunately, you really do have people who might have been born at a time where they did not get that education and now, they are working in our garden. So there's two things that we have done. We have adult education that we have always focused on for people who work in the garden. So even in their paid time off work we would take them out for one hour at the end of the day and have a teacher or something teaching them the basics so they can at least sign their name. They can at least read like some basic words. We feel like that itself gives them a level of empowerment that doesn't exist otherwise. Now with cell phone penetration and everything where technology is coming to you, even those little bits of knowledge, of being able to read, can go such a long way for their understanding and their empowerment. At the same time, in a very remote area like that, you always have problems, we talked about adults, but we also have problems with children. We have high dropout cases. The primary education scene in Bangladesh has vastly improved over the last 20 years but still, we will have kids that will drop out at a very early age (grades) at 3,4, 5, or 6. So we actually found a way with our Kazi Shadid Foundation, the KSF model, which does the dairy co-op and everything, to even support the community to actually run several small daycare centers, but it's mainly for kids who dropped out. It's for kids who haven't joined school yet or joined school and dropped out. When we put them through the system, suddenly you see improvements in them… so both these programs of adult education and the children who drop out have been really wonderful programs and really have felt like a contribution to the community.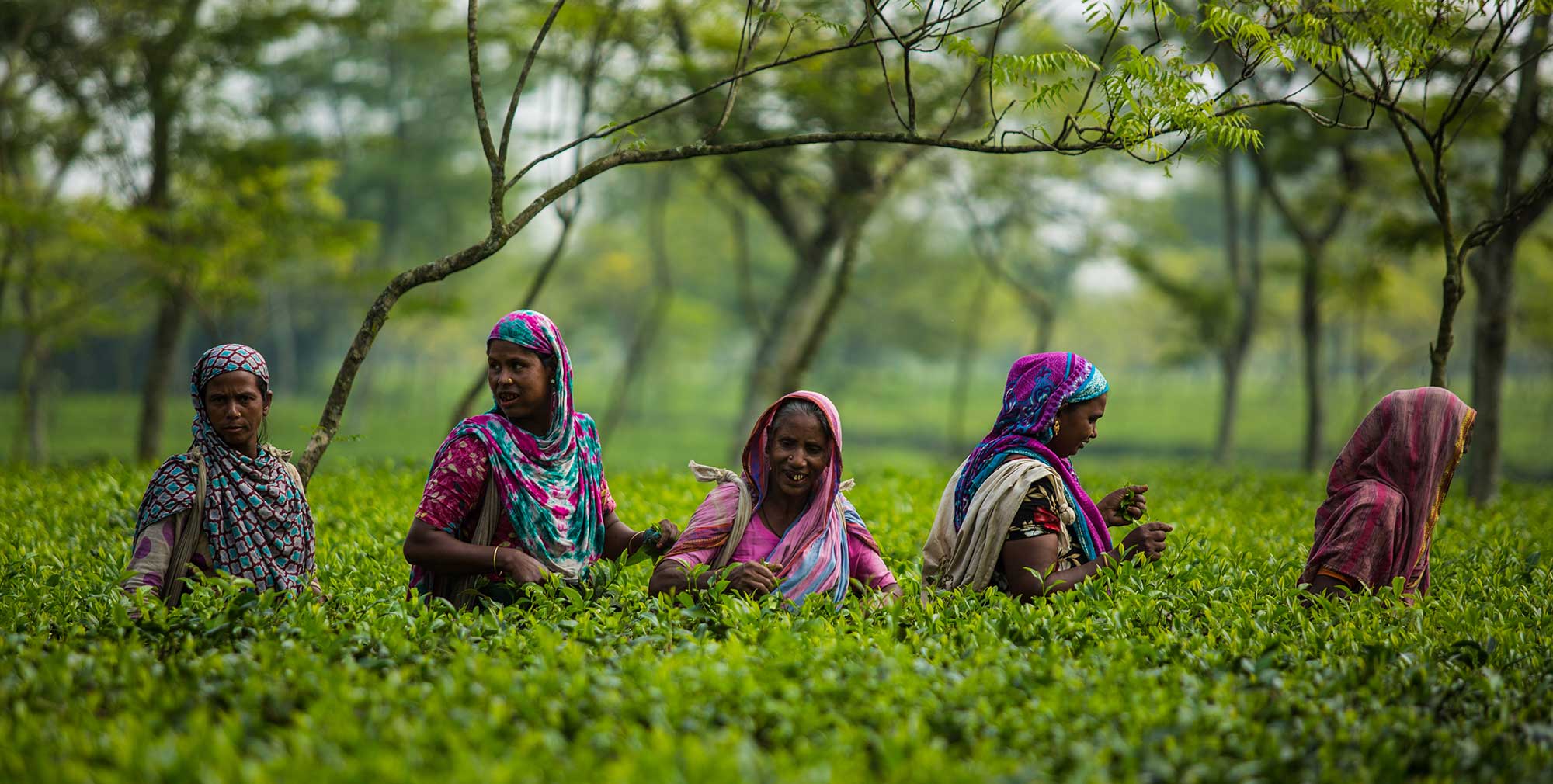 Molly
Do you have any personal favorite stories of women or children that have gone through these programs and have come out on the other side, in some facet, that you would like to share with us?
"So even in their paid time off work we would take them out for one hour at the end of the day and have a teacher or something teaching them the basics so they can at least sign their name. They can at least read like some basic words. We feel like that itself gives them a level of empowerment that doesn't exist otherwise."
Inam
Oh, absolutely. There was this woman who was part of our dairy co-op model. There was once a funny story because they really were struggling as a family and even her relationship with her family and her husband and everything was really difficult. She took just one cow from us. The long story short, over the course of 4-5 years, her whole family changed because over the course of years she actually ended up taking more than 4 cows and that actually with all the cows and everything she really had this small dairy farm. The whole family was doing so well, the children were doing so well, and it was so good. I remember our program coordinator had taken us to her home, and they were talking so positively about it and one point she said jokingly to the point, "you know, frankly, I don't need my husband anymore now that I have all these cows". Of course, you know that's a joke. It says the importance of how that empowered the relationship of that woman and her husband started respecting her so much. The husband was actually working for her then, helping her to do this work and run this, I shouldn't even call it a farm, run this little dairy that they had set up. It's a really impressive, powerful story. I would almost say they graduated out of it. They didn't need us anymore because they were buying their own cows because they actually had that much money and they could afford it and everything. There are many, many, many, stories like that, stories of people who have worked in the garden and how their children have gone through our system and they're studying in school and getting an education. We know that means these children are not going to be kids who are working in the gardens most likely in the future, of course, and they will be most likely moving to cities and everything. But that's what our journey is supposed to be with this garden which is not like any other tea garden in Bangladesh where it was set in the colonial past. We've always heard about gardens like that in South Asia where you have this working structure where the garden workers are working there, and it's almost as if they belong to the garden. That itself is a different concern, how they manage. That's why our garden is the only Fair Trade organization in Bangladesh and we feel very proud and good that the people working there are getting empowered. They are doing better, and their families are doing better.
"You know, frankly, I don't need my husband anymore now that I have all these cows"
Elsa
Yeah, that's really amazing the whole cycle of the land and the garden but also of the community, being able to educate and empower the individuals. I know you touched on the mozzarella and having to adapt with the milk surplus at the garden and with the foundation. Are there any other new initiatives that you have started lately, or maybe since the onset of COVID-19, that you would like to share?
Inam
Well, I think one thing that we have always been looking at is doing different herbs. Anything that we are launching whether it's in our Bangladesh market or even in the US with Teatulia, so whenever we are doing anything with tea, whether it is the jasmine, the turmeric, the ginger, we are always trying to grow more of those herbs. I think that's actually something that we've been working on in the past few months. There's a lot of these local flowers and stuff that we are starting to build up in our nurseries this year, and we are thinking of trying to see what kind of flavors or what kind of tastes we can get out of that if we mix it with our tea. That's something that it always takes like a year or more than that. We grow it, we try, and it's trial and error, but it's a lot of fun. And we are also trying to figure out other than the mozzarella and always doing new herbs and everything, like I mentioned earlier with our irrigation and that's something that we don't want to go into doing irrigation in a manner that is not sustainable. We tried something last year that worked very interestingly, where in the middle of the garden we kind of used some little bond areas where we did rain catchment with the water that stays from the rainy season and how we can use that for the dry season. Because we actually have a very big dry season from October to March so unlike many other regions in the world, like in Africa, in Kenya, Rwanda, or other places where tea grows where you have more of a longer rainy season or more of a year that you can actually pluck the tea, we don't have that. So, if we can do irrigation... we don't want to go underground to get water. We want to gather from rainwater or rainwater harvesting that we do, and we use that. That would actually help us get better irrigation for the dry season. That's something that we have been working on, and unfortunately, because of COVID, it took a bit of a hit. But again, we will work on it over the course of the year.
Elsa
Inam, for a little bit of context, how much rainfall...you might not know this...but do you know the rainfall you get in the dry season versus the wet season?
Inam
Oh my god. I won't be able to get the exact number...we always look at it, but the dry season, I actually mean from October to March, we literally get no rain. Like it's not even a droplet of rain. I mean, sometimes, we would get maybe something like two inches in the course of five months. And then when it comes to the rainy season, you could actually have days where you are getting more than a couple of inches of rain for a whole month. This year, we actually after two decades for the first time….we actually had some flooding in our garden which we've never had. We had an incredible amount of rain that took place this year here. So our person who manages the garden, Shoab, always laughs and says, "I wish I could just take a portion of this rain of the rainy season and spread it through the dry season." The amount of rain we get in the middle of the year, we wish we could spread it out. That would be brilliant but hey that's nature. That's the way it works. We can't control that.
Molly
My question goes back just a little bit further. When you guys were exploring the United States, what made you make that leap into this market versus any other market?
Inam
That's an interesting part because I was actually the first person I happened to...I was going to college in Connecticut, Wesleyan. I happened to be sitting at... this was my junior year in college...and I was sitting at my aunt's place for dinner where I met this Sri Lankan person. His father was the first tea garden, organic tea garden manager in the 80s. And I said, "Hey, you know my dad is doing a garden, putting in an organic garden. Can I call your dad?" And he was like, "Yeah, sure." And so, this person's name is Monjeev, he connected with his dad Moneek and I got in touch with him and he was a very friendly person and he said, "Hey, you know what? There's this tea festival that takes place, this tea conference in Las Vegas. It happens every March. Why don't you stop by and I'll meet you and I'll show you how the tea market works here and the scene for organic tea if you ever want to." It was my spring break in March and actually, instead of going down to Florida I actually went down to Las Vegas to attend this so I bought a suit and I went there and I walked around and I was like, "Alright, so this is how people sell tea." The next year I had gone back to Bangladesh and I had joined the family business. I had worked in the garden and I was like, "Hey I'm going to go back again." So I visited again. So the third year I visited my brother Anis, who's one of the co-founders of Teatulia with Linda, and me and Anis went there and took some tea to sell it. We took some tea bags, set it up on a table, and walked around. By the time we came back all the tea was gone. So all the samples that we had taken for the first day were gone within the first 20 minutes. So we didn't know that one of us should have stood at the little booth and it was a pretty... I must say...It was possibly the most simple set up that we had because it was carried all the way from Bangladesh in a suitcase and everything got pretty crumpled in terms of the backdrop and everything that we prepared. But so many people were so curious like, "Wooow!" Because I think that we are aware of the only ones that were just sitting there or just standing there so I'm telling a story about the garden and most people don't do that. They were very curious about all this tea that's coming. It was mostly tea shops and all these women who had started their tea shop somewhere, they would say, "I love this story. It's a wonderful story. I would love your tea. Can you give me like five lbs of tea?" The amount of three cages. "No, I want to fill up a container, which is like 8000 cages of tea." So there was no way that matching was taking place and I realized immediately talking to people over there that it's a very competitive market the way the tea market works and the price just for this good quality tea that they were willing to give, they were very aware of what price in Bangladesh would be for an organic tea so they would just offer a price that was literally just one pence above that and I was like you know what maybe we should come here and try to sell the tea to all those lovely ladies who were like that wanted like two cages of tea from us. So I think that where the conversation kind of started between Anis and Linda who were all friends then. Linda had actually been to Bangladesh before that and she wanted to start out doing something new because she had left her family business and we wanted to start something new there and that's where the conversation started between them and that's how we got there. Then of course how we realized in the course of the journey and you guys were part of the story that part of selling the tea is not necessarily always easy, but we have a beautiful story which comes all the way from the garden to the cup. We know the full story of the garden. We can really talk about it and I think we make really good tea. So, I think there's a lot of people who would like to drink that tea.
Molly
Absolutely, cheers to that.
Inam
Absolutely.