There's a big misconception that homemade mayonnaise is a tedious and complex process. If you have a food processor, and a few simple ingredients,then this Oolong mayo might become your new favorite DIY condiment.
This mayo recipe features our organic Oolong Tea that gives it a unique flavor with hints of fresh pie crust, lemon and sake. Combining the steep leaves with the dried cherries makes for a delicious condiment and a beautiful presentation.
(Adapted by Tea Foodie from the Oolong Mayonnaise recipe in the Culinary Tea by Cynthia Gold and Lise Stern.)
Makes about 2½ cups
Ingredients: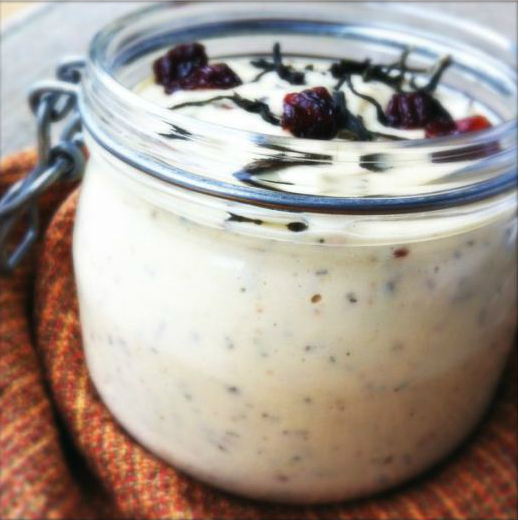 2 tablespoons chopped dried cherries
4 pyramid bags of Teatulia® Oolong Tea
1 cup just boiled water
2 eggs plus 1 egg yolk*
2 teaspoons grated fresh ginger (from about a 2-inch piece of ginger root)
2 teaspoons rice vinegar
2 cups canola or vegetable oil
Sea salt and fresh ground pepper, to taste
*Raw eggs can carry the bacteria salmonella. Use pasteurized whole eggs if you can find them. If not, use the freshest eggs and keep cold. To avoid raw eggs, substitute 2 cups prepared mayonnaise for the eggs, egg yolk and oil.
Preparation:
1. Cut open the pyramid bags and remove the tea leaves. Combine tea with dried cherries in a heatproof bowl. Add water just off the boil, cover, and steep the mixture for 3 to 5 minutes. Strain out the liquid (either for a cup of cherry oolong tea or discard). Set aside the steeped cherries and leaves to cool for at least 15 minutes.
2. Add the eggs, egg yolk, grated ginger, and vinegar to the food processer and process for several seconds to combine. While the food processor is running, drizzle in all the oil through the feed tube until smooth and starts to thicken. This process should take around 2 minutes.
3. Once the tea leaves and cherries have cooled, add to the food processor and process for 30 seconds. The tea and cherries with blend int othe mayo to give it a chunky texture with plenty of flavor. Transfer the mixutre to a bowl and season to taste with salt and pepper.
4. Cover and chill in the refridgerate for at least a half an hour before using to let it to set and for the flavors to blend. Store the mayo in an airtight container and enjoy within 3 days.