This is the perfect sip if you're trying to keep on track with your healthy eating, healthy living resolutions. It's an easy to make smoothie recipe that takes advantage of ingredients you probably already have in your fridge plus adds a twist of tea packed with natural energy.
The natural energy in this smoothie comes from Teatulia's new Energy Teas inspired by our active customers with hectic yet healthy lifestyles. The secret ingredient in these tea blends (besides our deliciously organic teas and herbs) is the powerful Eleuthero Root. This root has been used for thousands of years in traditional Chinese medicine and has been known to help the body perform optimally, recover faster, and adapt to stressful situations. Who doesn't need some of that on a daily basis?
This smoothie features Energy Red, a naturally sweetened, caffeine-free tea blend with hibiscus and rooibos. It's a great balance of sweet and tart with a hint of fresh berries.Brewed strong and frozen ahead in ice cube trays, it becomes a handful of refreshing and healthy energy to throw into your morning smoothie.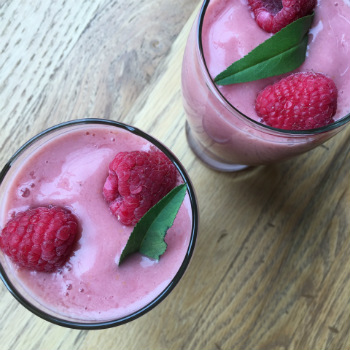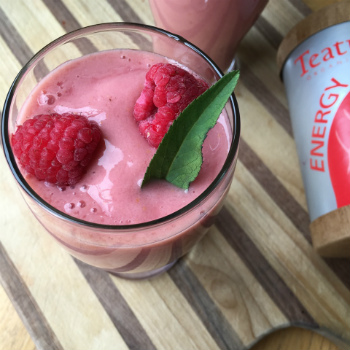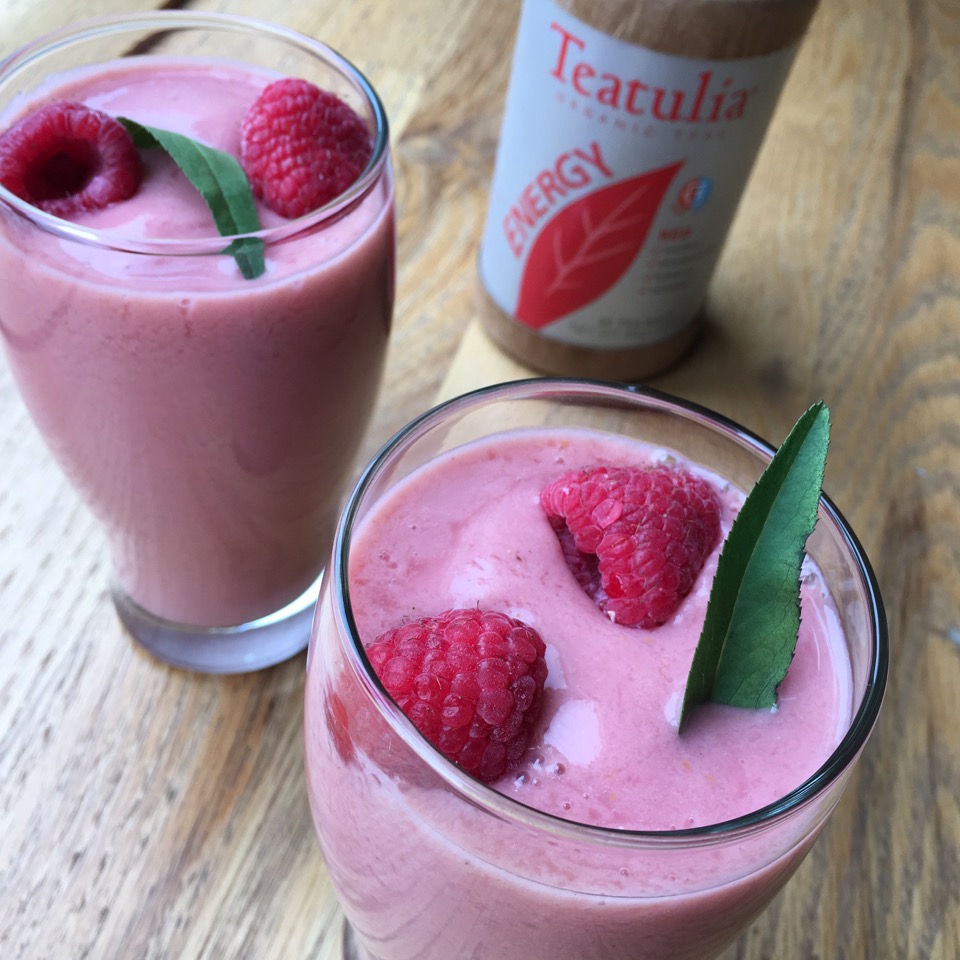 Fruit-tea Energy Smoothie
Recipe created by Tea Foodie for Teatulia.
Makes 2 smoothies
Ingredients:
2 cups water
6 tea bags Teatulia Energy Red
Ice cube tray
1/3 cup raspberries
Juice and pulp of 1 to 2 oranges
1/4 cup plain yogurt
1 small banana
Mint, basil, or tarragon leaves for garnish (optional)
Preparation:
Bring water to a boil. Place tea bags in a 2-cup (or larger) glass measuring cup. Pour boiling water over tea bags, cover measuring cup with a plate or towel, and let steep for 5 minutes.
Remove tea bags and let tea cool to room temperature. Once cool, pour tea into ice cube tray to fill. Freeze overnight.
Place 6 to 8 of the Energy Tea ice cubes in a blender and add remaining ingredients. Blend until smooth. Pour into two glasses and serve garnished with fresh herbs and any remaining berries if desired.
Tips:
Smoothies are easily adapted to taste. Here are some tweaks you can make this one:
Adjust the number of Energy Tea ice cubes to taste and depending on how big your ice cube tray is. More ice cubes make for a smoothie with more of a frozen texture and more tea flavor.
If you don't want to wait on tea ice cubes to freeze, use 1 cup of the cooled, strong-brewed tea and use frozen berries instead of fresh.
Use strawberries or blueberries in place of or in addition to raspberries.
The orange juice helps give the smoothie a drinkable consistency. Use less juice if you want the smoothie to be less liquid-y.
The yogurt and banana help provide thickness and body to the smoothie. Adjust or omit either according to taste and consistency preference.