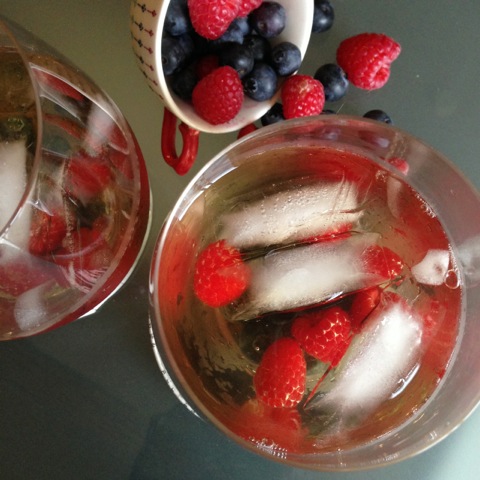 There's no better way to celebrate the Fourth of July than with an iced red, white and blue treat infused with tea. This white wine sangria is spiked with a strong-brewed white tea and properly speckled with red raspberries and blueberries in true summer holiday spirit.
White tea is one of the most delicate tea varieties because it is so minimally processed. White tea is harvested before the tea plant's leaves open fully, when the young buds are still covered by fine white hairs, hence the name "white" tea. The tea leaves are not allowed to oxidize as long as leaves plucked for green or black tea production. This minimal processing and low oxidation results in some of the most delicate and freshest tea available.
So that the delicate white tea flavor can still shine through, you'll want to use a very light-flavored white wine for this refreshing sangria, like a Portuguese Vino Vherde.
Red, White (Tea) & Blue Sangria Recipe
Adapted from a recipe by Tea Foodie.
Makes 6 to 8 servings
Ingredients:
6 pyramid tea bags (or 6 tablespoons loose leaf) Teatulia

®

White Tea
1 bottle Vino Vherde white wine (or other very light white wine)
1 pint raspberries (fresh or frozen)
1 pint blueberries (fresh or frozen)
Directions:
1. Bring water to a boil and remove from heat. Let water rest for a couple of minutes before pouring it over the tea bags. Steep for 3 minutes then remove and discard tea bags. Let tea cool to room temperature.
2. Combine cooled tea and wine in a sealable glass pitcher or jar. Refrigerate until well chilled; best if left to chill overnight.
3. For individual servings: Place a few ice cubes into a wine glass and toss a small handful of each of the berries into the glass. Pour the chilled sangria over the ice and berries and serve. To serve a crowd: Throw all the berries plus several large handfuls of ice into the pitcher with the sangria and serve.
Red, White (Tea) & Blue Sangria
1 Hour Makes 6 – 8 servings Ingredients: 4 cups water, 6 pyramid tea bags (or 6 tablespoons loose leaf) Teatulia White Tea, 1 bottle Vino Vherde white wine (or other very light white wine), Ice for glasses, 1 pint raspberries (fresh or frozen) 1 pint blueberries (fresh or frozen)