The name "chai" is actually the Hindi word for "tea", which was derived from "cha", the Chinese word for "tea". In this case, the Hindi term "chai" refers to a mix of spices steeped into a tea-like beverage. The spiced tea mixture is typically brewed strong and often made creamy with milk and sweet with sugar or honey.
There is no one right way to prepare chai. It's one of those recipes handed down from generation to generation and can vary by region, town, or family. The following is one of my favorite ways to prepare it—steeped strong with aromatic spices and Tulsi Infusion Tea, Teatulia
®
's blend of smooth black tea and fragrant tulsi leaf from our own organic garden in Bangladesh. It's a delightful winter treat.
Serves 4
Ingredients: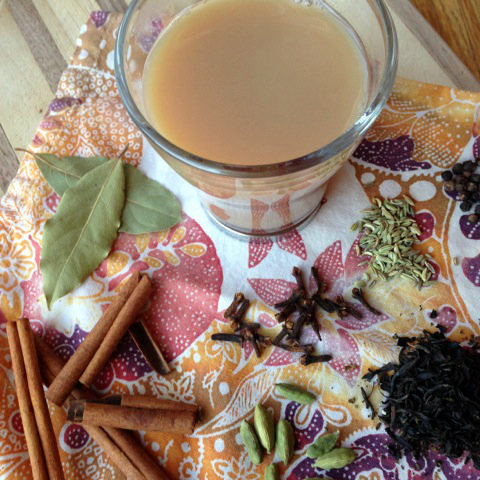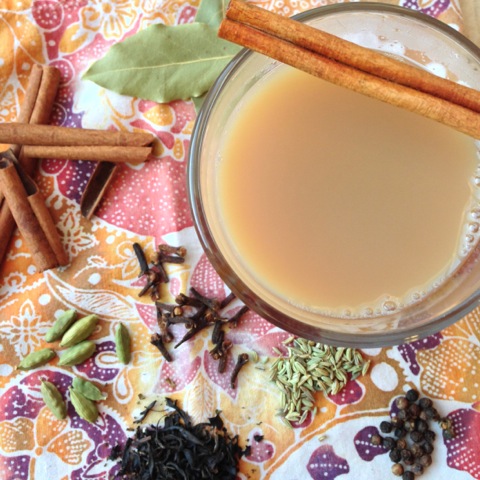 4 cups water
¼-inch piece fresh ginger root, thinly sliced
1 tsp. fennel seeds
1 tsp. peppercorns
½ tsp. cloves
4 green cardamom pods
1 bay leaf
1 cinnamon stick
4 pyramid tea bags Tulsi Infusion Tea
Milk and sugar or honey to taste
Preparation:
1. Combine water, ginger root, and spices in a medium saucepan and bring to a boil. Remove from heat, cover, and let steep for 15 minutes.
2. Add Tulsi tea bags and steep, covered, for another 5 to 7 minutes.
3. Strain, discard spices and tea bags, and divide brewed chai among 4 mugs. Stir in milk and sweetener of choice if desired before serving.