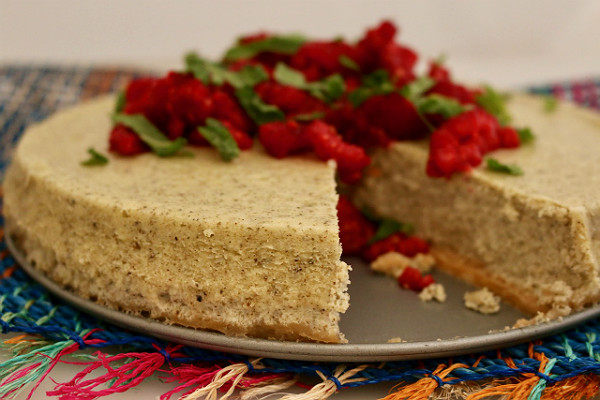 1 cup (generous) ground shortbread cookies (about 6 ounces)
2 Teatulia

®

Ginger Herbal Infusion whole leaf pyramid tea bags
2 8-ounce packages cream cheese, room temperature (do not use whipped or "light" products)
1/2 cup (packed) fromage blanc*
3/4 cup plus 2 tablespoons sugar
4 large eggs
4 Teatulia Green Tea pyramid tea bags with the tea finely ground into a powder
Tisane
2 1/2-pint containers fresh red raspberries
2 1/2-pint containers fresh golden raspberries
6 Teatulia Peppermint Herbal Infusion pyramid tea bags
Boiling water
For cake:
Preheat oven to 325°F. Blend Ginger tea into cookie crumbs. Press cookie crumbs firmly onto bottom (not sides) of 8-inch-diameter springform pan. Wrap outside of pan tightly with 3 layers of heavy-duty foil. Using electric mixer, beat cream cheese, fromage blanc, and sugar in large bowl until smooth. Add eggs 1 at a time, beating until incorporated after each addition. Beat in green tea powder until smooth. Pour batter over prepared crust in pan. Place cakein roasting pan; add enough hot water to roasting pan to come halfway up sides of springform pan.
Bake cake until set but center moves very slightly when pan is gently shaken, about 1 hour. Remove cake from roasting pan; cool 1 hour at room temperature. Refrigerate uncovered overnight. (Can be prepared 2 days ahead. Cover and keep refrigerated.)
For tisane:
Place 5 raspberries (mix of red and golden) and 3 mint leaves in each of 8 heatproof glasses. Fill glasses with boiling water; let steep 5 minutes.
Cut around pan sides to loosen cake; remove sides. Place cake on platter. Garnish cake with some raspberries. Cut cake into wedges. Serve each piece with a few raspberries and a glass of tisane.
*Fromage blanc is available at some supermarkets, cheese stores, and specialty foods stores.