(submitted by Tea Magazine)
Recipes & Text by Alexis Siemons
Photographs by Sharon McMullen
Basil may be a savory star, but its earthy and subtle peppery flavors balance the luscious watermelon and sweet, malty Assam syrup.
Makes 8 skewers
Ingredients: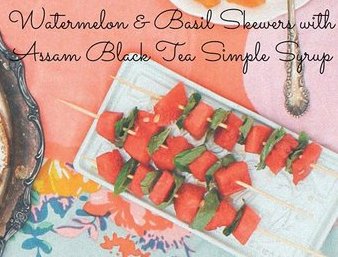 2 tablespoons Assam black tea
1 cup water
1 cup sugar
6 cups watermelon, cut into 1-inch cubes
1 cup basil leaves, torn into 1-inch pieces
Special tool:
8 skewers
Bring water to a boil and brew the Teatulia® black tea for 5 minutes. Strain out the tea leaves and add the brewed tea to a small pot on the stove. Bring the tea to a rolling boil and stir in sugar until it has dissolved, approximately 2 minutes. Let cool completely and store in an airtight container in the refrigerator for up to one week.
On 8 skewers, alternate the watermelon cubes and basil leaves. When ready to serve, spoon Assam black tea simple syrup over each skewer.
Tip: Do you have extra syrup left over? Use it to sweeten iced tea or spoon over shaved iced for a chilled treat.