We just launched our brand new Mint tea! Which begs the question, what's the difference between Teatulia Peppermint and Mint?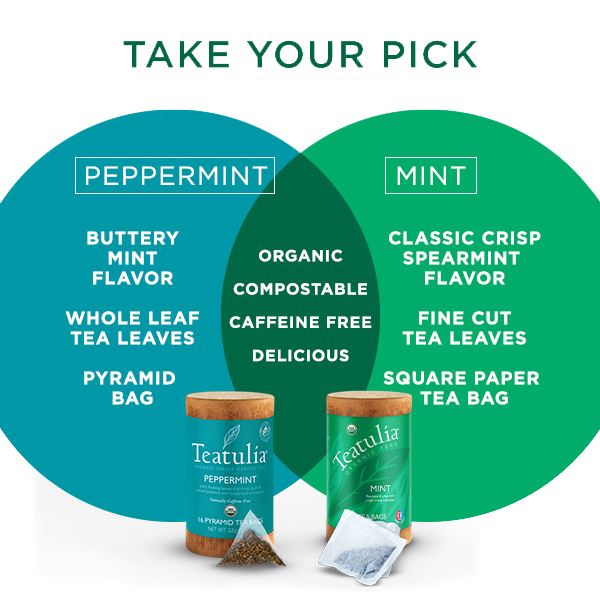 Peppermint and Mint come from two different plants. We call our new tea "Mint" because it's made from organic spearmint and peppermint leaves, and our Peppermint tea comes from only peppermint leaves grown in our Bangladesh garden.
The two are similar in flavor, but our Mint tea contains a higher concentration of menthol, making its flavor more robust and more pronounced. The menthol makes the Mint tea taste like a classic crisp mint, while we describe our Peppermint tea as a buttery mint.

Our Peppermint tea comes in a compostable plant-based pyramid tea bag. While it may look and function like a similar plastic-based tea bag, ours is made entirely from plants, is compostable, and won't leach micro-plastics into your teacup. Our Mint comes in a classic, also compostable, paper tea bag. Both have no strings, tags, or staples to cut down on waste.

All of our teas that come in a pyramid bag like our Peppermint tea, are a whole leaf or "orthodox tea." The whole leaf is the same tea you'll find in a loose-leaf format but with the convenience of a pre-portioned and easy brew tea bag. Because the tea is a whole leaf, you can steep 2-3 times to extract all of the leaves' flavors. All teas that come in our classic paper tea bag, like our Mint, are fine-cut. Our Fine-cut teas use the same tea you'll find in our whole leaf bag but chopped into smaller pieces.

Although our Peppermint and Mint aren't identical, they do share some similarities. As with all of our teas, they're 100% organic, which is very important for tea because tea leaves cannot be washed before they end up in your cup. Whatever the tea leaves have been sprayed with during their growing cycle will be washed into your cup. We treat our teas with love, not chemicals.
Both teas are compostable. It's our goal to produce products that can go back to the earth as efficiently as possible. Peppermint and Mint are caffeine-free because they're herbals. Herbal teas are made using herbs and botanicals rather than the Camellia Sinensis plant. Most importantly, Peppermint and Mint are both delicious! So up to you, take your pick.